UMBERTO BIGNARDI



Umberto Bignardi was born in Bologna in 1935. He is one of the main protagonists of the Italian Pop Art Movement. He studied scenography at Academy of Fine Arts in Bologna and then he moved to Rome 1955, where he continued his studies under Toti Scialoja and in the company of artists like Cy Twombly and Gastone Novelli.

In the late 1950s, he devoted himself completely to painting and he was one of the members of Scuola Piazza del Popolo, including Tano Festa, Franco Angeli, Mario Schifano, Giosetta Fioroni. Throughout 1960, he started experimenting with mixed techniques on paper and collages inspired by the disparate worlds of science and mass media. His work was discussed by the most respected critics of the time (from Maurizio Calvesi to Cesare Vivaldi and Alberto Boatto).

Selected solo shows: Galleria La Tartaruga, Rome (1961 and 1963), Galleria De Foscherari, Bologna (1964), Galleria L'Attico, Rome (1966); Galleria Modern Art Agency of Lucio Amelio, Naples (1967); Galleria Del Deposito, Genoa (1967); Museo Laboratorio d'Arte Contemporanea, University "La Sapienza", Rome (1994); Galleria Il Segno, Rome (1994); Motion Vision, Palazzo Grassi Theatre, Venice (2015), Galleria Bianconi, Milan (2016 and 2020);

Selected group shows: Giovane pittura a Roma, Galleria La Tartaruga, Rome (1959); 13 pittori a Roma, Galleria La Tartaruga, Rome (1963); Arte Nuova, Lunds Konsthall, Lund, Sweden (1964); XXXVII Venice Biennale of art, Venice (1966); "Arte povera - IM Spazio", Galleria La Bertesca, curated by Germano Celant, Genoa (1967); Fuoco, Immagine, Acqua, Terra, Galleria L'Attico, Rome (1967); Public eye, Stadlisches Museum of Wiesbaden, Wiesbaden, Germany (1968); Extra, Kunsthaus Hamburg, Hamburg, Germany (1968); The new domestic landscape, MOMA, New York, USA (1972); Pop Art Italia 1958-1968, Galleria Civica di Modena, Modena (2007); TATE FILM- If Arte was Pop: Artists' and experimental cinema in Italy 1960s-1970s, Tate Modern, London, UK (2015); Roma Pop city: anni '60, MACRO, Rome (2016), ITALIA POP. L'arte negli anni del boom, Fondazione Magnani-Rocca, Parma, (2016); Spazi Igroscopici, Galleria Bianconi, Milan (2017); Camera Pop, Camera, Centro Italiano per la Fotografia, Turin (2018); 60.20 Il futuro è ora. Arte e società dagli anni Sessanta a oggi, Gallerie d'Italia – Palazzo Leoni Montanari, Vicenza (2020- 2021).

Umberto Bignardi lives and works in Milan.

'59-'63

Umberto Bignardi
Quadro per bene, 1963
Oil, wall paint, pastels and collages on canvas
135 × 200 cm
Unique




Umberto Bignardi
Spermaceti, 1961
Mixed media, watercolors and oil on canvas
160 × 180 cm
Unique




Umberto Bignardi
Ombra di Silvia, 1963
Oil on canvas
154 × 202 cm
Unique





Umberto Bignardi
Untitled,1960
Mixed media on paper
70 × 100 cm
Unique





Umberto Bignardi
Senza titolo, 1960
Mixed media on paper
70 × 100 cm
Unique



Muybridge


Umberto Bignardi
Uomo che sale (da Muybridge), 1966
Mixed media on paper
70 × 100 cm
Unique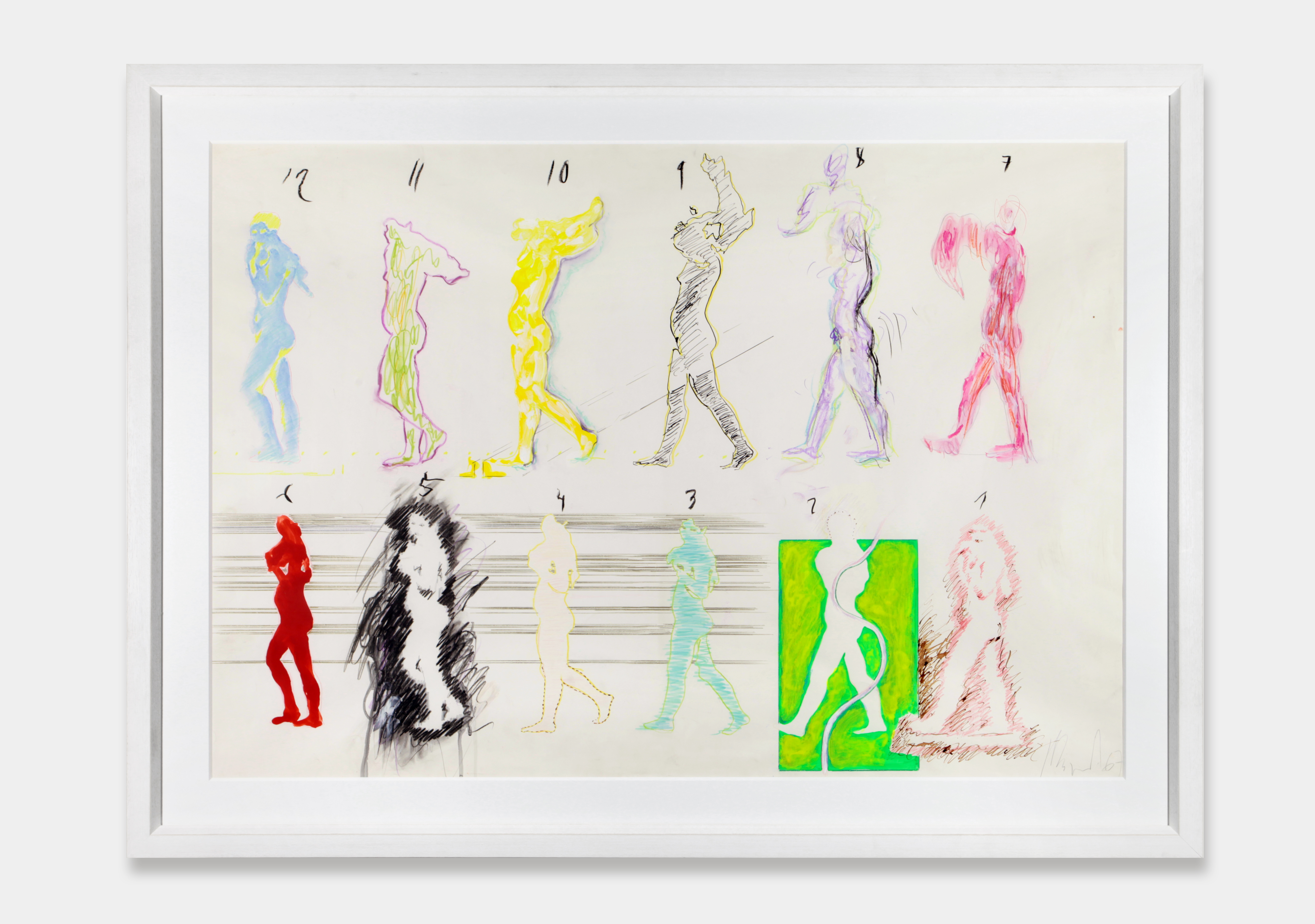 Umberto Bignardi
Donna che si spoglia camminando (da Muybridge),1967
Mixed media on paper
70 × 100 cm
Unique